All Irish Casino
All Irish Casino Bonus: maximum €1,0000
GAMES: 270+ casino games (flash version)
SUPPORT: live chat function
DEPOSIT OPTIONS: Credit Card, Bank Transfer, Etc…
EXTRA: Live games, Roulette and Blackjack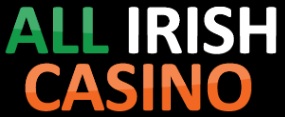 Online gambling in Ireland is dominated by two large concerns and even though there are plenty of others and indeed we promote one or two of them here at gambing.ie most Irish people tend to like what they see as being Irish oriented so how refreshing it is to have an online casino not owned by a big conglomerate that is focussed on the Irish casino market and the Irish casino players and it is known as All Irish Casino. All Irish Casino is not part of a large group but has been set up in conjunction with a well known casino operator in Malta which many Irish casino players may well have visited when on holiday on the island and it is known as the Portomaso casino. This connection brings all the expertise of running a casino to All Irish Casino and indeed the live casino option comes direct from the Portomaso casino but more of that later.
All Irish Casino does not have a full range of online gambling and it sets itself out to be a pure online casino which it appears to be very good at. All Irish Casino is licensed by the Lotteries and Gaming Authority of Malta which is one of the recognised authorities throughout Europe and licenses a number of online gambling operators along with other centres such as Gibraltar. Sensibly All Irish Casino has not attempted to create their own casino software and have entered into an agreement with Netent which provides a full range of popular casino games as well as some excellent casino slots and video slots. Online gambling in general and online casinos in particular should be a form of entertainment according to All Irish Casino and they promote responsible gambling by both allowing casino players to exclude themselves from the casino for anything up to 6 months as well as putting their own limits on what they can deposit within a given time frame which can only be altered with 7 days notice. These measures plus the monitoring of new players to try to prevent underage gambling or other illegal activities show that All Irish Casino is taking measures to prevent gambling becoming a problem and there are also links to help organisations.
The selection of casino games available at All Irish Casino includes all the most popular Roulette and Blackjack games with a selection of number of hands to play and table stakes to suit most pockets. The layout and graphics at All Irish Casino are in our opinion very special using a lot of the Irish colours but also having all the casino games listed on the home casino page which makes it very easy to select and play your favourite game. What we also like here at gambling.ie is the fact that you can play most casino games for free without even registering at the casino; we think this is a good move which will attract Irish players to the site and enable them to learn the games before committing any cash. Talking of cash, All Irish Casino accepts all the popular forms of depositing money into your account including direct transfer from Irish Banks and winnings can be paid out within 24 hours although depending on your bank the money may take longer than that to reach your account.
Other casino games at All Irish Casino are Baccarat which they prefer to call by the alternative name of Punto Banco, Caribbean Stud Poker, Trey poker which is actually three card poker with a different name, Let it Ride poker and Red Dog. If some of these casino games are new to you then take a look at our casino section here at gambling.ie or for more explanation try www.casinos.ie which is a specialised Irish online casino site. There is also a terrific selection of slots at All Irish Casino which are subdivided into 3 reel slots and 5 reel slots which come under the heading of video slots. We think the graphics and sound accompanying these slots is great and the choice of over 50 different games of which 5 are jackpot games provides enough choice for everyone. There are a number of different slots that we like but try "Gonzos Quest" with exploding blocks or "Robin Hood" both of which carry multipliers for successive wins. Bingo and Keno can also be found on the site and remember that All Irish Casino is an instant only casino which means there is no download format to clutter up your computer; it may take a few seconds longer to download but the full choice of casino games is all there which is not the case with a number of other online casinos.
We mentioned earlier in this piece about the live casino option at All Irish Casino which we believe is unique in offering live action streaming from an actual casino rather than a room somewhere in Eastern Europe. This gives All Irish Casino the advantage of having professional dealers and proper organisation but the disadvantage even if only slight is that the live casino is restricted to the opening hours of the Portomaso Casino itself but as this operates from 10:00 in the morning until 05:00 the next morning this will not be an issue for most Irish casino players. All Irish Casino should benefit from this arrangement as we believe that Irish casino players will like the idea of dealing with an actual casino. It must be said of course that the tables and pictures are streamed from a separate room within the casino to prevent any security issues with other players in the casino. All Irish Casino has a choice of Baccarat (Punto Banco), Roulette and Blackjack available at the live casino with a choice of table stakes.
All Irish Casino has set its stall out to attract Irish casino players and we believe they will do a good job as they seem to have everything in place including great games and graphics and sounds so by all means give them a try.